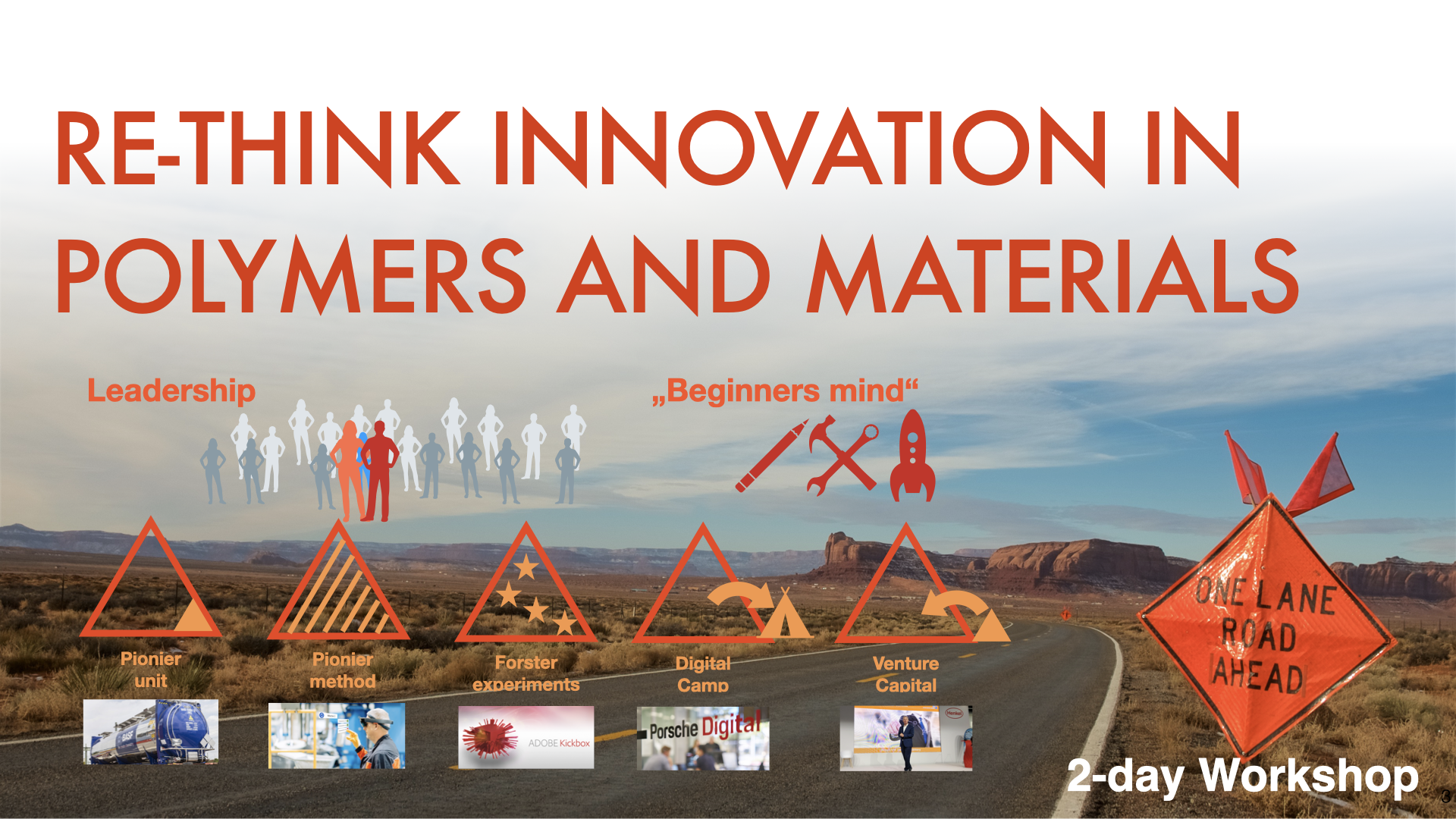 The lifecycle approach
2-day workshop

Delivered in-person using interactive methods

For executives, strategists and innovation leaders
As a consequence of the major transformation the chemical industry is undergoing, we need more innovation, a wider definition of innovation, and a faster implementation of new, profitable products, services and business models.
To be successful with this challenging task, it's important to understand the entire ecosystem of the polymers and materials value chain, and how this impacts successful implementation of innovations, as well as the role that new digital technology plays in accelerating the innovation process in our industry. Applying innovation strategies in only one part of your business is risky. You need to examine the entire lifecycle of your products and business. 
In this workshop, you will learn how to re-think your innovation process. Immerse yourself into an inspiring, creative atmosphere where you will interact with other professionals and examine the entire lifecycle of possible innovation approaches. 
Workshop learnings and outcomes
Discover how other industries are deploying innovation methods to create new business opportunities and get inspiration for how you and your organization might utilize new and emerging digital tools and platforms

Learn how to assess your organization's capacity for innovation in terms of both barriers and opportunities, including analysis of digital capabilities

Learn how to apply design thinking based innovation methods, such as FORTH Innovation Journey, to shape a strategy and to create new innovative business models 

Create your own curriculum for implementing innovation strategy thinking and enabling a true innovation culture.

Discover how to integrate innovation as a way of thinking and working into daily processes in order to be able to react quickly to changes.

Learn where and how to profitably integrate the ability of creative thinking into your work

Gain tools to effectively engage with key stakeholders in your value chain ecosystem to overcome challenges and drive transformation in your business.

Enhance your capabilities to implement a tailored innovation strategy for your organization, equipping you with an action plan to maximize entrepreneurship and foster a culture of innovation.
Who should attend?
The workshop is designed for about 10 – 20 executives, corporate strategists, and other innovation leaders from the polymer and materials industry, who want to rapidly achieve a massive change in how their organizations approach innovation.
If your desire is to be competent and confident about implementing innovation strategies and how to build a true innovation culture, then this workshop is for you.
Book your workshop
Time for action is now. The pace of digital transformation is fast, and accelerating.
Whether you'd like to hold this workshop in-house or as part of a conference, I can work with you to further customize the content to suit your business and your audience. 
Are you ready?