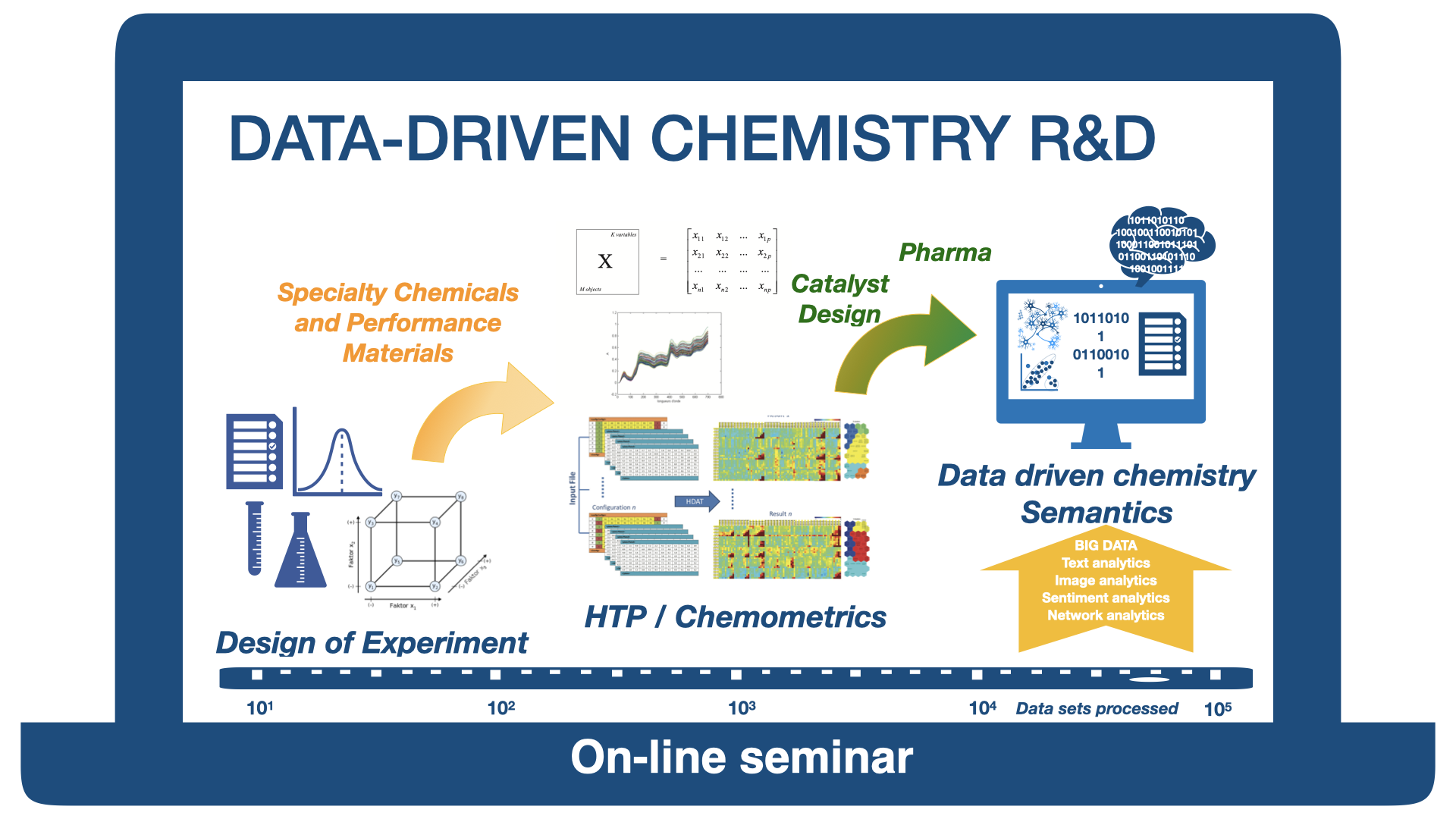 Choosing the Right Tools, Gaining the Right Mindset 
Online introductory seminar

60 min presentation, 15-30 min Q&A

For managers and R&D specialists
In the polymers and materials industry, there are still difficult problems to solve and new levels of innovation excellence to reach in the lab. Complex formulations are often not completely understood in terms of how the properties and interactions of the components (often complex chemicals themselves) impact the final product performance. Frequently, critical-to-quality (CTQ) performance criteria can be reached in lab development, yet cannot be maintained through the scale-up—resulting in a product that doesn't meet customer needs. The amount of relevant knowledge (Patents, Papers, Brochures, Webpages) is growing exponentially, requiring further investigation and synthesis.
Thankfully, the tools to address these problems and opportunities are out there. The use of digital technologies, combined with creating a data-centered culture in chemistry R&D and applications labs, offers a way forward: automation of manual tasks, digital capturing of all available data, the creation of data-pools instead of fractionated storage, and the consequent use of models. But how do you choose what's right for your business?
This introductory online seminar will help you to navigate through the offers of Chemistry 4.0, make sense of them for your daily business practice, and allow you to choose which tools really help you to make your work more effective, efficient, and therefore profitable.
Seminar learnings and outcomes
Review Chemistry R&D today—and what's wrong with it.

Understand available tools and how assess their suitability for your labs

Discover how to use digital technologies to:

better understand the complex interactions in your formulations and applications; and

accelerate research and development and scale-up into production.

See your lab and work processes with new eyes and a new mindset. 

Take the first steps in finding strategies to transform your labs or development units into the digital age and developing a digital mindset.
Who should attend?
This workshop is for managers and specialists dealing with research and development, application development, or innovation in general in the polymers and materials or specialty chemicals industry. It targets lab processes dealing with complex formulations, no matter where on the value chain—from raw material supplier to OEM.
If your desire is to be competent and confident about the latest digital technology developments and how they can be utilized to improve development and scale-up, then this seminar is for you.
Book your seminar
Time for action is now. The pace of digital transformation is fast, and accelerating.
Are you ready?